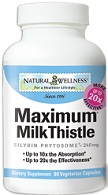 Patient Feedback
With over 150,000 bottles of Maximum Milk Thistle® sold since 1998, thousands of people who want liver protection and support have experienced the benefits firsthand. Their personal experiences reinforce the scientific conclusions from clinical studies proving its efficacy.
Here is just a sampling of the many positive comments we've received over the years about Maximum Milk Thistle®, from some of our satisfied customers:
I chose Maximum Milk Thistle®

after reviewing a number of research articles relative to chronic liver disease and the benefits of milk thistle. The data supporting Maximum Milk Thistle® allowed me to base my decision on the science at hand.

I have seen the benefits of MMT evidenced by improvement in lab tests

and maintaining an active lifestyle. Maximum Milk Thistle® has been a valuable addition to staying healthy as a HEP C survivor.

- Michael D.
I can't say enough good things

about MAXIMUM MILK THISTLE®. I have tried 3 different types of Milk Thistle. Although they did help some with my liver enzyme tests,

I was ecstatic after taking your product for just 3 months.

My liver tests came back for my SGOT at " 62 " which is not too far above normal. Other tests showed that my liver was functioning very well.

I attribute the change directly to your product as I stopped taking it for a couple of months and my next test showed an increase in liver enzymes.

I also like the fact that it does not interfere with other prescriptions or the vitamins that I take. Although there is no certain cure for Hep C I feel confident that I can be as healthy as I can while taking your product.

Thank you so much and keep up the wonderful research!!

- Peggy M.
I must report that my wife

, who has Hepatitis C,

has benefitted enormously from consumption of Maximum Milk Thistle®

. She had serious myalgias, often thought to be associated with Hepatitis C and since taking MMT, those myalgias have all but disappeared. Complexion is improved. Energy levels are up. Thank you.

- Charlie Q.
Dear Ralph, as you know,

I have HEPC 1b which has not responded to interferon with rebatron or the peg interferon recombinant method. I have done both regimes for 9 months each with no help.

I was feeling like a walking dead man and life was of little interest. About after 1 year of being very sickly I began researching milk thistle. I was amazed as to how many brands were available but

yours stood out as the purest and the most potent of all

. I have not missed a day of taking this herb and have been feeling just great. I have no idea if it is helping cure the disease but am certain that I am working in the right direction.

I do not use drugs or alcohol and am flushing my system with Maximum Milk Thistle® and water daily. I am confidant that if it werent for your quality drug I wouldnt be half the man I feel I am today. Thanks for all the help and support and know you are one of the true good guys.

- Robert H.

Being in the Medical Profession

, I am aware there is little regulation with herbal supplements. I sought numerous product brands to compare ingredient(s) amount and recommendations in dosage.

After taking the product for a year, I felt better

. I believed I was not only better, but probably did not need the supplement any longer. My viral load had decreased by 2 million. I could not in all good conscience assume it was the Maximum Milk Thistle® for I had also made life style changes.

I stopped the supplement and in four months there was a noticable decrease in energy and ability to concentrate. After resuming the supplement and regaining my sense of well being,

I have no plans of discontinuing my Maximum Milk Thistle®.

- Rose D., Florida
I was diagnosed with HCV in 1997

, I was on Interferon for 11 months in 1999 but did not respond and progressed to Cirrhosis of the liver in 2000 and was placed on the transplant list in 2002 with the Washington University Hospital in Seattle. I started taking Maximum Milk Thistle® about a year ago and

within two months my condition stabilized and has remained so to this day.

I decided to try Maximum Milk Thistle® after reading favorable reports about the Phytosome process and concluded I had nothing to lose in trying it. To be honest with you I don't know for sure if Maximum Milk Thistle® is the only reason my condition has stabilized but besides my normal intake of vitamins, diet and exercise it is the only change I have made.

I am not on the active transplant list anymore and I will keep taking Maximum Milk Thistle®

. Let me add that I am pleased with your pricing and convenient automatic ordering system. Sincerely, HCV Survivor

- Richard G.
I am an R.N.

I contracted Hep-C from a patient and have been taking Maximum Milk Thistle® for 4 years, as recommended by my gastroenterologist. I believe this product is the best milkthistle on the market taking into consideration the quality & the amount of mg you get for the money. Also delivered to your door-a great convenience.

My liver enzymes are within normal range & my viral count has gone from 1,700,000 to 249,000

. At this point-having relapsed from the 1 year Schering treatment 1999-2000, this is the one option left open & seems to be doing the job.

- Clare G.
I have been taking Maximum Milk Thistle® for four years now

and

I am VERY happy with the results.

After learning I had cryptogenic cirrhosis of the liver (cryptogenic simply means they do not know what caused it) I got on the computer to see if I could find anything that might help, as there is no cure for cirrhosis other than a liver transplant.

After reading about Maximum Milk Thistle® I ordered it immediately and have been taking it every day. I have automatic refill so I can never run out of it. Since taking Maximum Milk Thistle® my liver enzymes have stayed the same and have not increased.

My primary care doctor is amazed

. She has used me as an example for other patients who have liver problems. Also, my hematologist is very pleased with my liver function tests.

Cirrhosis usually is a very progressive disease and mine has stayed the same for the past three years. I am on the list for a liver transplant but I have not moved up since I was accepted.

The ONLY thing I have done different since I was diagnosed is to take Maximum Milk Thistle®

. I guess that speaks for itself. I hope everyone who takes it does as well I've done. I truly believe that I would not be doing as well without Maximum Milk Thistle® and could be in liver failure by now without it.

- Nancy C., Florida
I found out several years ago that I have Hepatitis C.

My liver markers were always elevated and I also have light fibrous scarring as revealed by a liver biopsy. Not wanting to undertake the potentially debilitating Interferon treatments, I chose to look for organic remedies.

I researched a few milk thistle products and actually had a friend who is a PhD in biochemistry study some of the claims. He agreed with my assessment that your process should aid in the bio-absorption of the active ingredient.

After a few months of taking Maximum Milk Thistle® I went in for my quarterly blood work. Amazingly, my markers were all coming down, still not within normal ranges, but improving.

After several years, all of my markers are well within the normal ranges

of people without liver disorders.

Both my Primary Care Doctor and my Gastro are very impressed with my health history

and I firmly believe that they would assume that there is indeed a cause and effect relationship between my improvement and my use of Maximum Milk Thistle®.

- Malcolm G.
Just wanted to drop a line

and indicate how pleased I am with your product. Had been using SolarRay milk thistle and notice marked difference in your process. Thanks for the help.

- Douglas F.
I initially started taking milk thistle

along with some other liver aide products from the local health food store when I found out that I had HCV. I continued with the milk thistle along with my initial inteferon/ribavirin treatment. After the treatment I became aware of Maximum Milk Thistle® and have been taking it ever since.

My liver enzymes remain normal to a point or two above normal.

I can attribute that in part if not all Maximum Milk Thistle® vs. the over-the-counter milk thistle I was was taking previously. I have my good days and bad, but my level of discomfort is held to a minimum. Thanks MMT!

- Melvin E., South Carolina

When I was diagnosed

with Hepatitis C I went to the net under liver and found Liversupport.com. The reports about milk thistle convinced me to give this a try since my Dr. wanted a biopsy and interferon injections.

I have been taking Maximum Milk Thistle® for 3 years and my reports are all absolutely normal!!

My liver enzymes have not increased at all.

- Craig T.
Maximum Milk Thistle® was part

of my liver healthy lifestyle during 7 months of Hep C treatment on Peg-intron and Riboviran -- a severe toxic reaction forced me to stop that treatment. I was then put on a maintenance dose of Pegasys for 18 months. When I started that first run of treatment my biopsy showed stage 4A (end stage) liver disease. My ultrasound showed a liver covered with nodules or bumps.

I chose Maximum Milk Thistle® because it checked out to be the best product.

I don't take supplements -- just a multivitamin. But my inquires and the Hep C doctors I spoke with all agreed that Milk Thistle was a smart choice for a person with Hep C. Maximum Milk Thistle® was simply the best on the market. So along with a very healthy diet, exercise, yoga and meditation I added Maximum Milk Thistle®.

I feel that Maximum Milk Thistle® was an important part of regenerating my liver

.

My Hepatologist called the regeneration of my liver a miracle. I just thanked God. And must say it is strange having muscles, strength, stamina and best of all a mind that thinks.

My last ultrasound showed a smooth and healthy liver. I'd eagerly asked the tech administering the ultrasound how the bumps looked? Her replied filled me with joy, What bumps? You've got gas! I still have Hep C. The maintenance dose only suppressed the virus from a count of 5 million to a count of 10,000 to 30,000. But that was enough for my liver to regenerate itself. Stage 4 reversed to stage 0 to 1.

I'd recommend Maximum Milk Thistle® to anyone with Hep C undergoing treatment.

I'd also recommend MMT to anyone who has Hep C or just wants a healthy liver

. Ralph, you and your product helped save and give me a new life, with thanks,

- Steve K., Florida
I'd like to let you know

that my mother, who is on powerful hypertension medicines that left her tired all the time, is now feeling great! She has her life back and can walk to town for her errands without having to rest in the park. Amazing! Thank you.

- Emily T.
I am a Hepatitis C Survivor

. I still have Hepatitis C and I have chosen not to use the Conventional Therapy because of serious concerns of side effects.

Milk thistle has been shown to protect the liver and can be used long term without worry of side effects . Maximum Milk Thistle® is a mixture of both Phosphatidyl Choline and Milk Thistle compounds that protect the liver. I have been using Maximum Milk Thistle® for over 1 year and

my hepatic function blood panel test have improved---along with the way I generally feel

.

Of course I also exercise regularly and take other supplements, but 5 to 6 capsules of MMT is an essential part of my overall regimen. Ralph is also a survivor and has been generous in answering my many questions about a variety of issues I have about our condition.

- Fred P.
Just to let you know

that

I just had my liver function test and they are the best ever

. I have been taking Maximum Milk Thistle® for a month. I am Hep B positive but with very low titer. Did not pass it to both husband and kids. My hepatologist decided not too treat with any anti-viral meds especially since my liver biopsy was neg. He was also the one who told me about Maximum Milk Thistle®.

- Ruby B.
I would love to endorse this product!

I was having brain swelling so bad that I could no longer drive. I was having horrible night sweats too. Itching all the time, nauseated from the time I woke up to the time I went to bed.

I take Maximum Milk Thistle® along with schizandra capsules and I feel MUCH better now

. My brain is functioning normally now, no more daily headaches, either.

I do not sweat at night, hardly any itching, nausea has gone way down. I also have a LOT more energy. I used to have to rest after just sweeping the floor. Now I can clean my whole house without getting tired!

This product has saved my life

. I tell anyone that has liver problems to take this if they want to live.

- Nancy W.
I'm half way through

three bottles and reduced whichever nasty chemical it was, I forgot the name, from 751 to 330.

I'm astounded and pleased

.

I've recently tripled the recommended dosage. I don't suppose that can do any particular harm. I also went to a new MD today who recommended Milk Thistle, I was able to tell him that's why the numbers are getting so much smaller! Thanks.

- Janis D.
When I found out

that I had contracted HVC I was in shock. I researched all the available protocols and milk thistle seemed to be recommended in a wide range of studies and

Maximum Milk Thistle® the best of the milk thistle products

.

I still have HVC but my viral load is under 80,000 and a recent biopsy showed no liver damage. There are several clinical trials going on testing approaches that could be more effective and less uncomfortable than pegylated interferon. By taking Maximum Milk Thistle® I have the luxury of waiting for those results.

- Steve B.

Absolutely amazing

. My son, with Hepatitis C, was in constant pain with bleeding sores all over his body.

Within just a few days after taking Maximum Milk Thistle®, the pain disappeared totally

, the sores are healing rapidly and he's almost back to normal health. Thank you so much!

- John M.
I am a health care professional

and have had HCV since 1988. I researched the treatments and options and opted never to try the Interferon-Rebetron due to it's in-effectiveness against HCV (50% or less) and the horrific side effects. If my success was no better than that in my profession (anesthesia), I'd be out of business.

I had the fatigue and upper right quadrant pain that is common in this disease, but it didn't really affect my day to day life.

I then read about Maximum Milk Thistle®

, saw it had been studied by the Germans and the Italians in double blind trials, looked at the original data, and was convinced of its safety.

Now I am convinced of it's effectiveness. I feel great - no fatigue, no pain and stable enzymes.

My VR hasn't changed, but I don't really worry about it, as long as the damage is being controlled. There are many herbals out there touted as liver cures that can do some actual harm and they have not been properly studied. I avoid them. I take only Maximum Milk Thistle®, Vit B-complex, Vit A (400/day), a low sugar diet, a lot of vegetables and grains, no drinking, smoking, and I exercise routinely. Lastly, I refuse to worry and have replaced the fear of this disease with faith in my God.

- Timothy S.
I have just gotten

my eight month blood tests back and I am not free of the Hepatitis C virus, but my AST and ALT levels are both in the 30's!!!

I'm sure your product is a good part of the reason.

Thank you!!!

- Jim O.
In June of 2003

I was diagnosed with a non-alcoholic specific fatty liver. I also was diagnosed with a 3cm. tumor on the left lobe of my liver. With that news I looked up everything on the internet I could find about liver conditions and how to take care of them. My doctors did not tell me how to take care of myself. I read with a fatty liver the only thing you can do is go on a low fat diet so that's what I did.

I also discovered the Maximum Milk Thistle® web site and thought that Maximum Milk Thistle® sounded like a good product.

I started taking Maximum Milk Thistle® immediately and believe that it has kept the growth of my tumor at bay

. I have had two MRIs since the first one and my tumor has stayed the same. Maximum Milk Thistle® makes me feel like I have at least some control over taking care of my own body and my liver condition, and that there's hope that I can keep myself as healthy as I can. Thank you for such an excellent product.

Sincerely, Lorraine B.
My husband has Hepatitis C

and we began receiving Maximum Milk Thistle® from your organization about a year ago. We both firmly believe it has made a difference in his quality of life. Thank you so much for all that you do for so many people.

- Sally K.
After 2 years of fighting

this disease, and not able to continue Rebetron therapy due to cardiac stress, I thought I was doomed. Every day I woke up was a blessing and still is.

A couple of months ago I ordered MAXIMUM MILK THISTLE®, I thought what did I have to lose, except my money. I'd give it 3 months and if there was no change I'd cancel the prescription.

I took the required dose of 3 times a day for the first month and then I was given a MAYO CLINIC diet for a fatty liver the next month to follow along with it.

Last Tuesday, 2 months on MAXIMUM MILK THISTLE®. and 30 days on the diet,

my blood tests came back the best ever in 3 years

! AND for the first time in 2 years my LIVER ENZYMES went DOWN, my blood sugar is NORMAL and I've lost 18 pounds. My liver enzymes had been progressively going up every 3 months.

I am ecstatic!

So, if you haven't tried this, give it a chance. You have everything to gain.

- Tracey K.
My family was just as shocked

as I was when we discovered that I have had HCV possibly since I was 6 years old due to a blood transfusion I received. So one day my cousin sent me an email of this website she found about HCV and explained that it had soem interesting information about it.

That's how I came across Maximum Milk Thistle®.

I started taking and noticed a difference a few weeks after

I felt more energetic, I felt less tired. It helped me feel like my life was not over after all. I used it during my interferon treatment, and I feel it helped through that torturous time.

On top of it all, the newsletters and HCV treatment updates that Ralph Napolitano sends out on behalf of the Maximum Milk Thistle® website are great. I recommend Maximum Milk Thistle® to everyone that has a liver problem, I think it has helped me deal with mine.

- Louis M.
Be sure to also review the clinical studies and see the comments from doctors and medical experts.