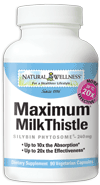 What is Maximum Milk Thistle™?
Milk thistle is the most widely recognized natural remedy for liver health, confirmed by hundreds of clinical studies shown to protect the liver against virtually all types of damage. The main challenge with milk thistle is that its active ingredients are not absorbed well by the body, especially in their purified or standardized forms. This would require you to ingest large amounts to experience any beneficial effects, an impractical and expensive option.
Maximum Milk Thistle™ provides a patented, highly-absorbable form of milk thistle called Silybin Phytosome®. This helps deliver 8 to 10 times more of milk thistle's active ingredient to your liver, making it a much more effective and economical supplement to address your liver concerns.
No matter what may be affecting your liver, Maximum Milk Thistle™ gives you a natural, effective, convenient, affordable and clinically-proven way to protect and support this vital organ.
In addition to milk thistle's liver health benefits, new research shows that the herb may also play a role in heart health by preventing cholesterol oxidation. At the University of Arkansas, Sunny Wallace and coworkers found that extract of milk thistle, a potent antioxidant, protected LDL cholesterol from oxidizing. The investigators found that one of milk thistle's most active constituents, silybin, was capable of reducing the oxidation of LDL cholesterol by up to 86 percent. Because the oxidation of LDL cholesterol is suspected to play a major role in the development of atherosclerosis and heart disease, taking a silybin supplement, such as Maximum Milk Thistle™, may be one of the best ways to maintain heart health.
How Does Maximum Milk Thistle™ Work?
The liver is an important organ in regard to your body's energy generation, storage and maintenance. The Silybin Phytosome® contained in Maximum Milk Thistle™ aids the body in detoxification and is a key element in improving liver function.
Silybin has been found to be the most active constituent of milk thistle. The patented Phytosome® process, creating the active ingredient in Maximum Milk Thistle™, sees to it that more milk thistle gets to where you need it and less is simply "washed" out of your digestive system. The main benefit of the Phytosome® process is that it provides enhanced delivery of the beneficial components of the herb. This way there is much less waste and much, much greater benefit.
For hepatic and metabolic support, Silybin Phytosome® delivers a highly absorbable form of milk thistle to the liver - up to 10x more than standardized milk thistle formulas.
Clinical studies have shown a sustained beneficial effect with long-term usage.
Silybin Phytosome® is a powerful antioxidant and provides a protective effect against alcohol, pollutants and other toxins harmful to the liver.